Below are some recent messages sent in by health system presidents, pharmacists, administrators, students, business contacts or speech attendees who have been touched by the Emily Jerry Foundation. We thrive off these types of things because it truly shows us we are making a difference. Please let us know how we have affected positive change in the world! Send all sentiments to [email protected]. Thanks for your continued support.
---
December 2022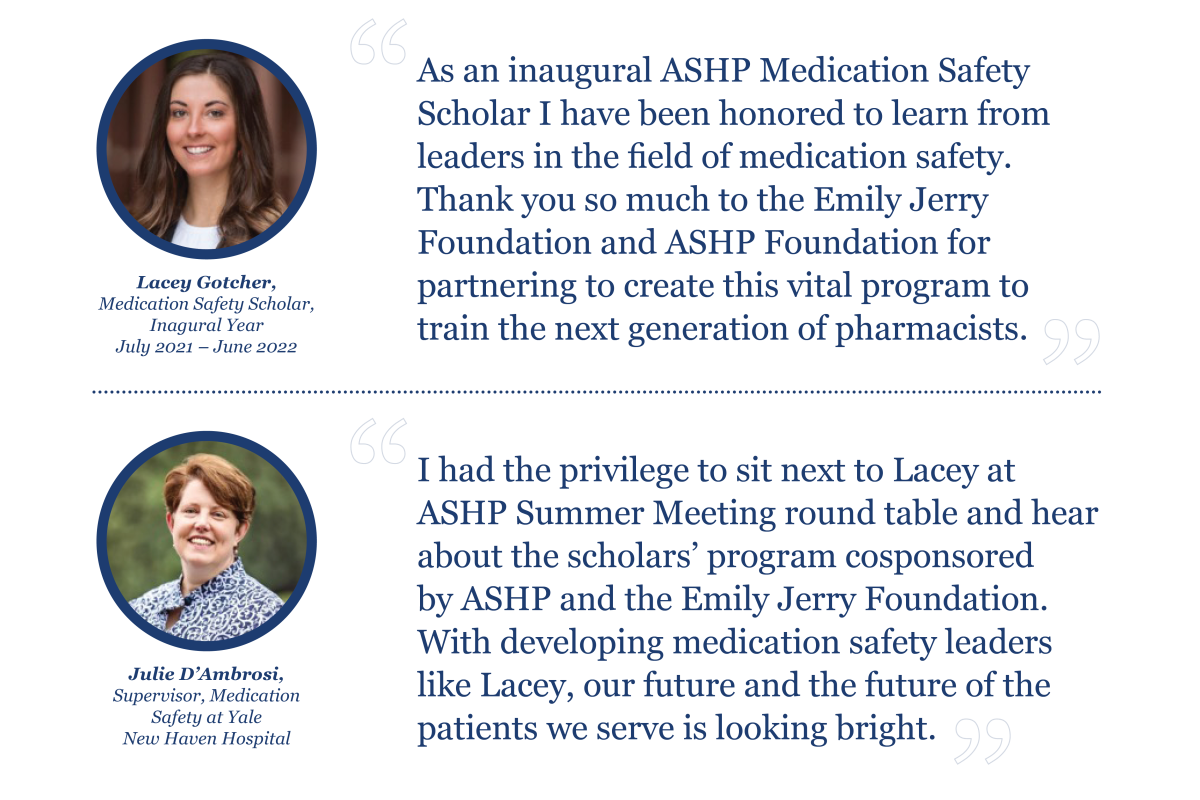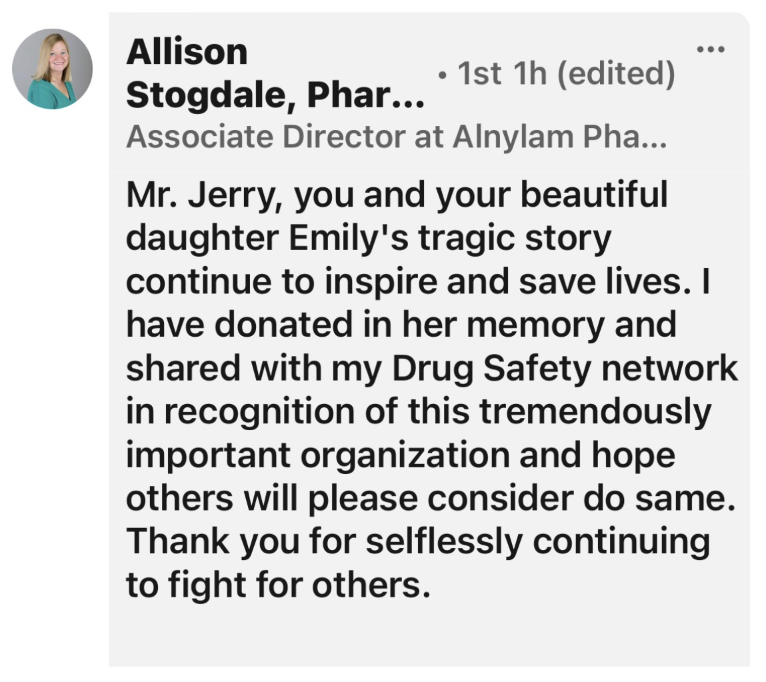 ---
November 2021
Mr. Jerry,
I first met you many years ago when you traveled to Union Hospital in Dover, Ohio to share your tragic story. As a young caregiver, that had a profound impact on me in how I approached my patients. I promised myself that if God ever placed me in a position of leadership, I would share your story as we addressed policy and change in our journey to becoming a highly reliable organization. Since then, I've had that opportunity many times. Thank you! Blessings!
Chris B.
---
November 2021
Hello,
My name is Audra Whitton, and I'm a nurse as well as an educator for nursing students. I discovered your foundation while researching
medication errors during one of my master's projects, and I've been so impressed by the work you do. As a pediatric nurse, Emily's story breaks my heart, but it's been inspiring to see how you took that awful situation and turned it into so much good for other people.
I thought you might like to know that I've included Emily's pictures in a PowerPoint for my junior nursing students on safe medication administration. I like for them to see the faces of individuals whose lives were forever changed (and, in some cases, tragically ended) by medication errors – not to scare them, but to make them more cautious when they start giving medication.
Basically, I just wanted to take this opportunity to say thanks for all you do; it's so important to look at systems change and how we can make medical care safer for everyone.
Thanks,
Audra W., MSN, RN
---
May 13, 2021
I felt very honored and privileged to have given the keynote for the #NYSCHP Virtual Annual Assembly last week. It was truly a blessing to have the opportunity to show my sincere gratitude and thank their membership for "making good" on an important promise that was made.
In June of 2012, I attended an ASHP House of Delegates Meeting in Baltimore, where the Emily Jerry Foundation's new National Pharmacy Technician Initiative and Interactive Scorecard was being introduced.  Back then, there were 6 states that had zero regulation of their Pharmacy Technicians, and unfortunately, New York was one of them.
On that same day, shortly after the announcement of our new initiative some #NYSCHP members, led by Leigh Briscoe-Dwyer (NY House Delegate), introduced themselves and pledged to do everything they possibly could to get this vital legislation passed.  This is why I am so pleased to be able to say to everyone, that earlier this week, a new law went into effect in New York, recognizing Pharmacy Technicians as licensed professionals and their promise was kept!
So grateful!

---
April 4, 2021
It was truly an honor and a privilege, to have been given this wonderful opportunity to speak to our future leaders in healthcare at D'Youville College, a few weeks ago!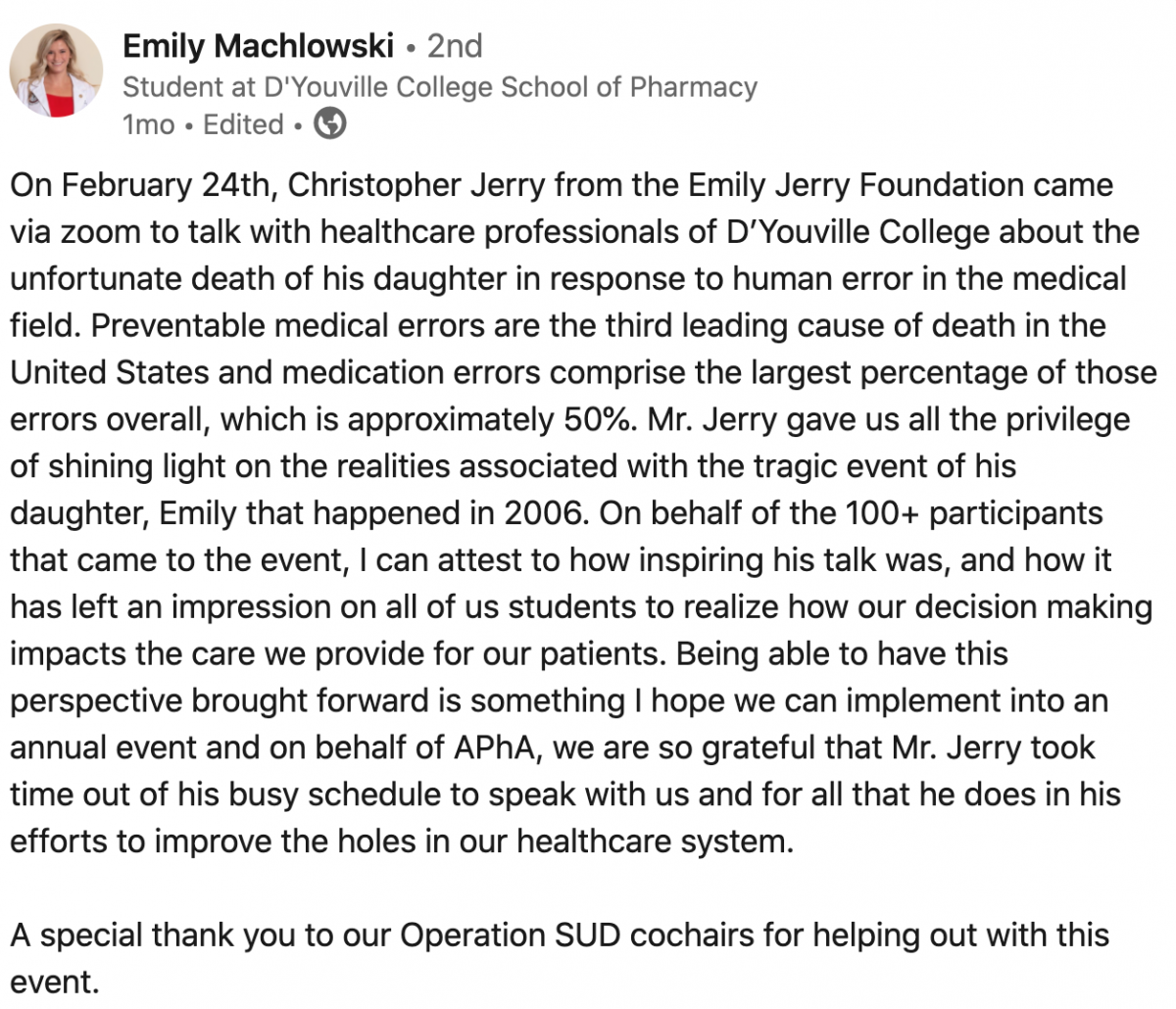 ---
June 15, 2017
For about the past five years or so, I have been working with a great organization called Pharmcon, occasionally doing educational webinars, as I did yesterday afternoon, for pharmacists, pharmacy technicians, nurses, etc., about Emily's Legacy and the vital lessons learned from the horrible tragedy that occurred in 2006.
After yesterday's webinar, I received this very kind and heartfelt letter from the newest member of the Pharmcon team. Correspondence like this truly inspires me to continue down this path that I believe was "chosen for me" and makes me feel as though the Emily Jerry Foundation is really affecting positive change, making a difference, and quite possibly saving some lives from preventable medical error. With that said, I find it quite ironic that this gentleman's last name is "HOPE" because that is exactly the true blessing he has given me!
*****
I just wanted to take a moment to say, from the bottom of my heart, how much I appreciate your joining us today on our PharmCon webinar and sharing some of the more recent highlights from the Emily Jerry Foundation. I, too, believe that multiple miracles occurred on that day amidst incomprehensible tragedy and heartbreak. One of those miracles was you. As the newest team member at PharmCon, I was ecstatic to learn that we had a solid working relationship with you to communicate such a vital message on so many fronts.
Having served as the director for an ASHP accredited training program, I knew of Emily's legacy, but it was only recently that I made the connection between Emily's legacy and the positive changes that I see from state to state, especially within the arena of pharmacy technology education. I am a member of PTEC (Pharmacy Technician's Educator's Council) and have followed the dialogue surrounding pharmacy technician education requirements over the past several years. I am still appalled that, even within our profession, we find objections to 'common sense' at times.
It was an absolute honor to speak with you today! Consider this to be my own offer to be an "advocate for the advocate," whether it be through my role with Kevin and our team at PharmCon or on a personal level.
KEVIN HOPE, RPH, BCNP
Clinical Pharmacy Education Specialist
---
June 9, 2017
Yesterday was such an amazing day at Allegheny Health Network's Medication Safety Summit in Pittsburgh. I truly felt so privileged and humbled to give the keynote to help kick things off. I was also so grateful to receive this heartfelt handwritten note from "Just a Nurse." Anyone who has a nurse in their life knows they are rock stars and this humble attitude is what makes them such wonderful people. Thank you from the bottom of my heart for this wonderful message.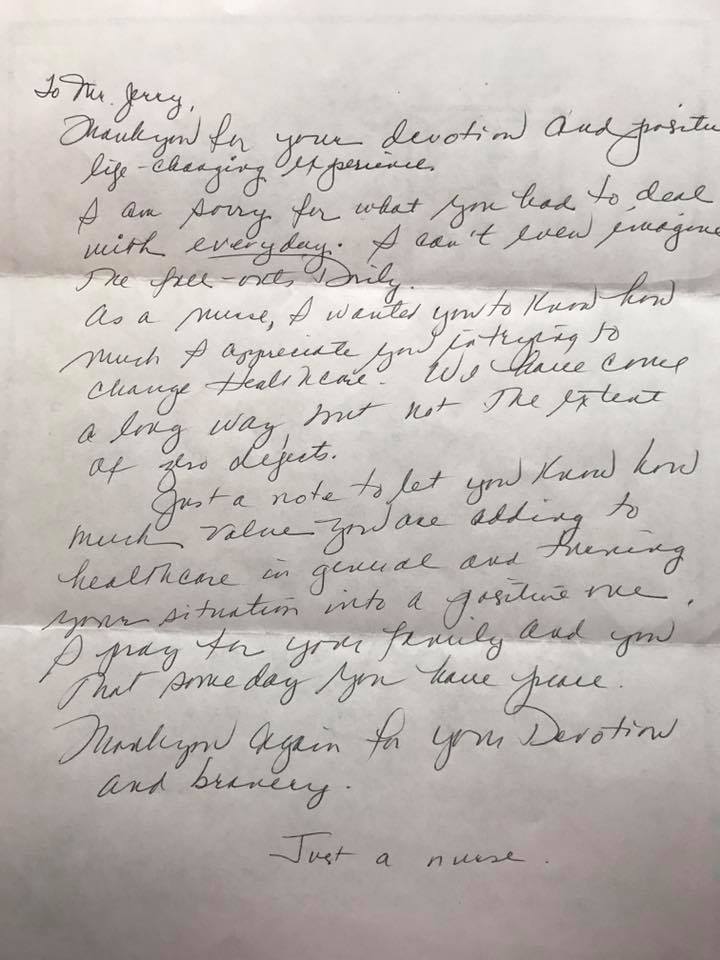 ---
June 7, 2017
Most people truly understand why I am so passionate about my ongoing advocacy efforts in patient safety and why it has been so important to me. They also seem to get why, over the years, I have felt so strongly about always striving to be an active part of the solution to preventable medical errors, not only through my work, but through the programming of The Emily Jerry Foundation. What some people who do not practice medicine often ask me though, is "why" I refer to myself not just as a patient safety advocate, but as a clinician/caregiver advocate, as well? The following, very kind and supportive email correspondence that I just received from a pharmacist this morning helps explain the answer to that question.
*****
"I just wanted to say I'm so sorry for what happened with your daughter. I also think you are an inspiration for how you took the situation and have done such good things with it. I am a pharmacist and I see all too often companies not getting to the root of the problem. They only try to fix the face of the problem, not the cause. You are doing something so wonderful by trying to fix the broken system after the trauma you suffered—I have no words to express how wonderful that is. I also don't have words to express my condolences and sorrow for your daughter–words can't suffice for that type of pain, I'm so sorry. Best Wishes, Jan"
---
April 8, 2014
A very kind letter was sent in by the Hawaii Pharmacist's Association regarding my recent speaking engagement at their annual meeting held in Honolulu, HI. Believe me when I say, the pleasure was all mine!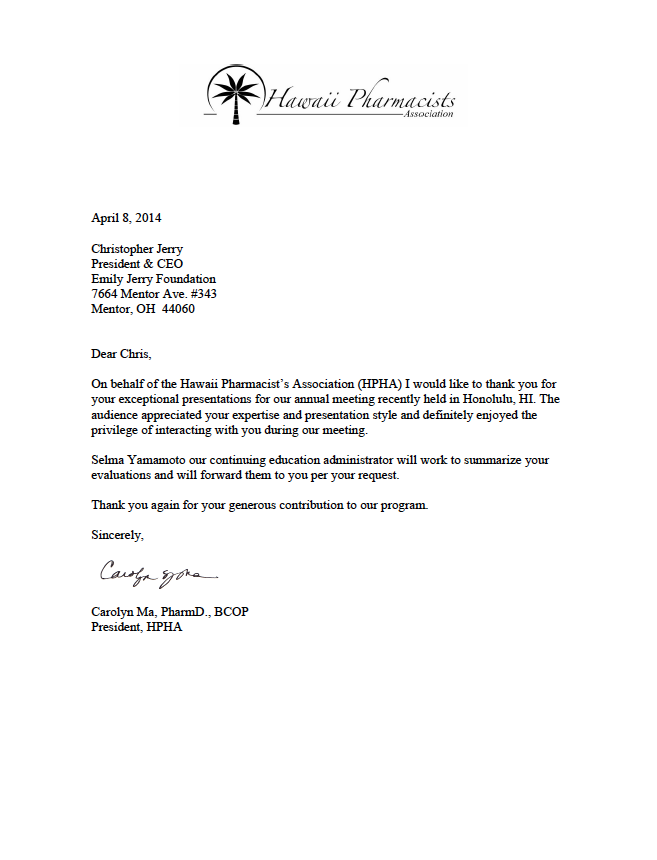 ---
March 20, 2014
I was very honored to receive the following letter sent in by Dr. Lewis First, the Chief of Pediatrics at Vermont Children's Hospital. I had a great time visiting with their team and hope to continue a great relationship moving forward!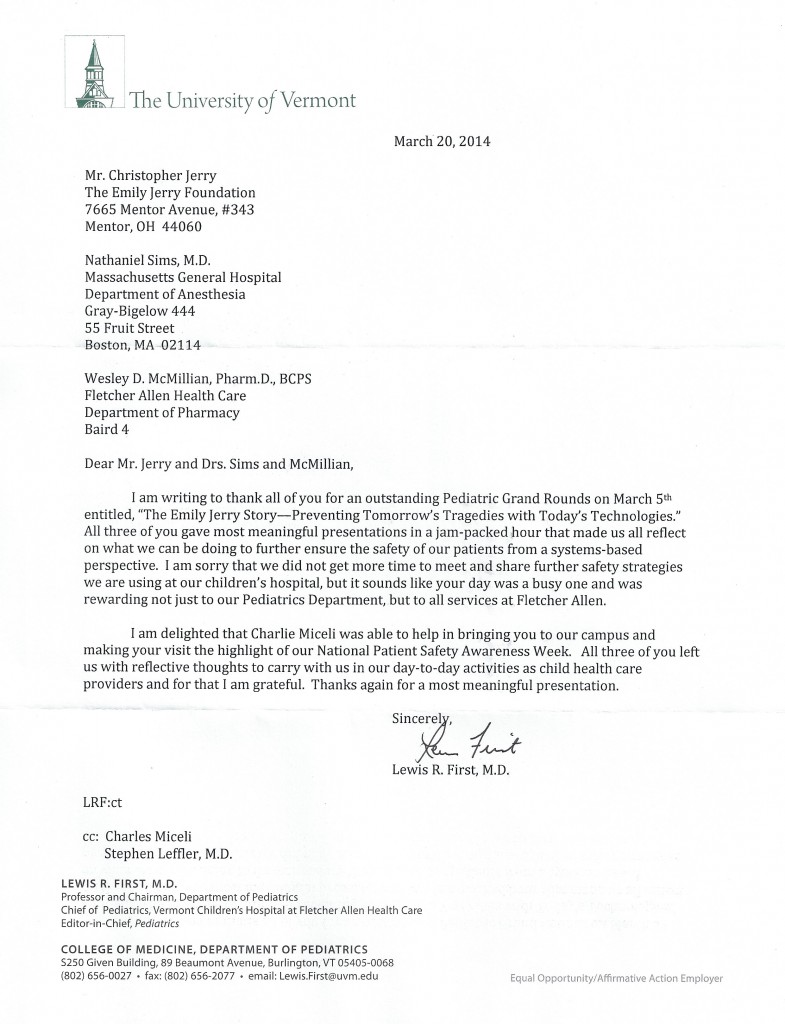 ---
August 29, 2013
Dear Chris,Thank you very much for sharing your story at our Leadership meeting yesterday. As a parent myself, I can only imagine the magnitude of the heartache and grief that you experienced, and am amazed at your courage and faith. Your ability to turn such a traumatic event into something that others will benefit from is a true attestation of your incredibly strong and admirable character.Best of luck to you as you continue to share Emily's story with others, and know that your special guardian angel is now a part of the Children's family.
DonnaDonna Hyland
President & CEO at Children's Healthcare of Atlanta
www.choa.org/
---
May 8, 2013
EJF received quite a bit of correspondence from our new friends at Kroger Pharmacy including a very nice letter on behalf of the Kroger Pharmacy staff thanking me for my last appearance as Keynote Speaker on Wednesday, May 8th, 2013. I truly love working with this group!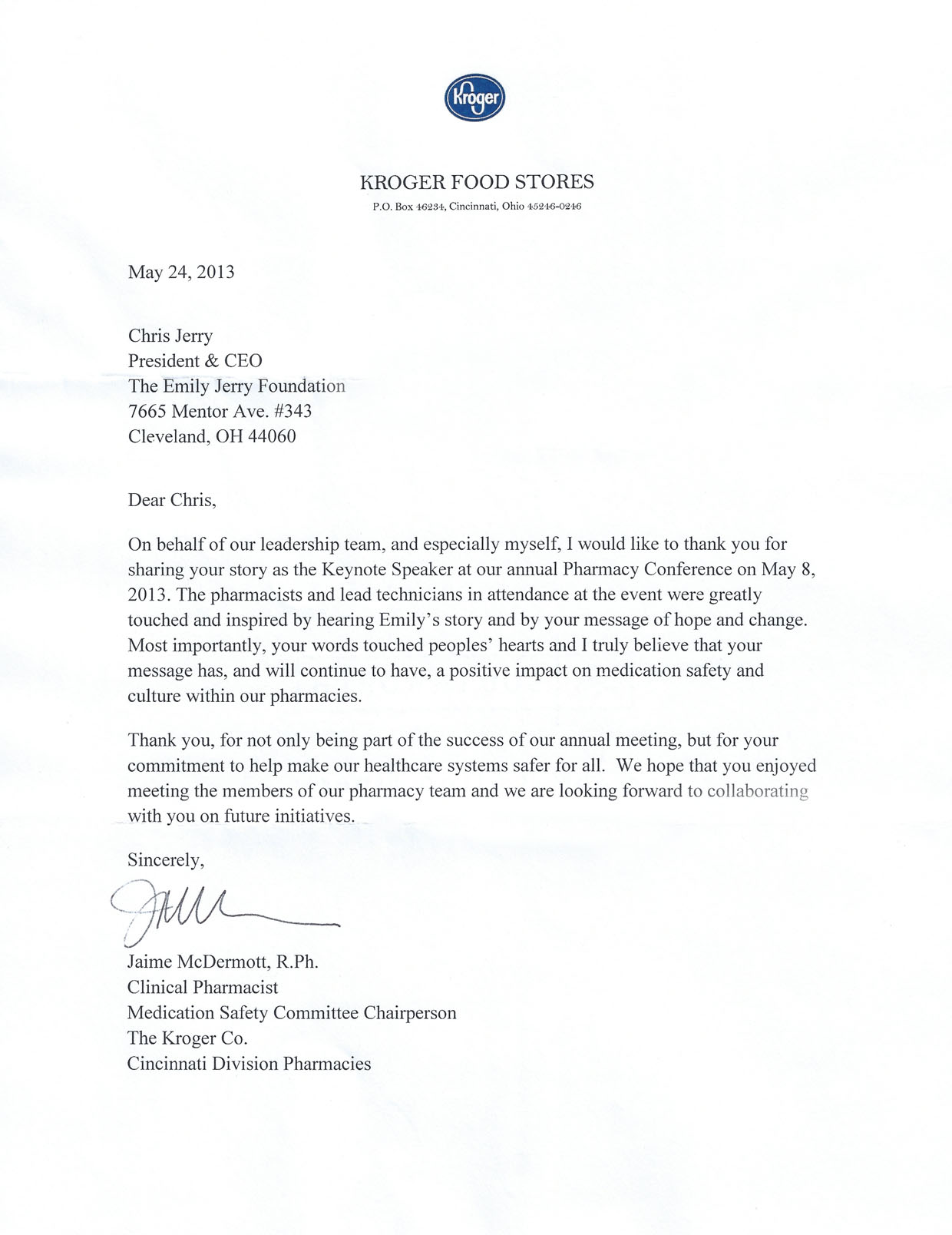 Dear Mr. Jerry,
My name is Casey and I met you this week when you spoke to the group of pharmacy managers and lead technicians for the Kroger Company in Cincinnati.  I would first like to thank you again for sharing your story with us and commend you for your strength and compassion.  It is rare to have such powerful qualities in the face of such adversity and I can only pray to have a fraction of those qualities for myself.I cannot express exactly how much Emily's life and story moved me.
As a new parent, this story was especially impactful, and I again marvel at your courage.  Your work in advocating medication safety is admirable in itself, but is exponentially more moving when the tragedy of Emily's death is added.  I am a member of our division's Medication Safety Committee and it is extraordinary to me that anyone outside of the pharmacy profession would work so passionately to enhance our practice.  Patient safety has always been a focus of mine and I hope to instill that in every member of my staff.  I was hoping you could direct me to where I could find the video clip you showed us at the beginning of your presentation.  I conduct quarterly staff meetings and I would like to show my staff the video and share Emily's story with them at our next meeting.  I would like to use any means available to impress upon my staff the importance of the work they do and how impactful it can be.
Also, I would like you to know that in an effort to make our pharmacy as safe as it can possibly be, I have banned all use of cell phones within the pharmacy.  It is a small step, but a change I could make quickly and something I feel will be very impactful on the focus of attention for my staff.Again, I thank you for sharing  your story and wish you the best in your endeavors in patient safety advocacy.
With thanks,
Casey Guilfoyle,
PharmD, RPhPharmacy Manager
Kroger Co., Store 418
---
Hi Mr. Jerry,
I am pharmacist with Kroger in Cincinnati, and had the opportunity to hear you speak at Paul Brown on Wednesday. I really wanted to come and chat with you after the program, and let you know the impact you had on me personally, but never felt like I could hold it together to talk to you without tears running down my face.
I have never been so affected professionally as I was after listening to your program. I am the mommy of four young kiddos, two of which are beautiful little two year old girls, just like Emily. So, you can imagine that the impact of what happened to Emily really hit close to home for me. I always knew that becoming a mom would make me a better pharmacist, but that statement has never been more accurate, after listening to your testimony. I really don't have the right words to say to you, but to let you know that you really, really are making a difference by sharing your story. I will never forget you, Emily, or the impact you have had on me personally and professionally.With that being said, is there any way that I can get a copy of the video you showed at the beginning of your talk, to share with my staff pharmacist and technicians? I feel like from time to time, everyone gets careless, and I would like to remind them how important they are in making sure our customers are safe.Again, I can't thank you enough for reminding me of the role I have as a pharmacist each and every day.
Thank you,
Nicole Cogan
---
Chris-I am a Kroger pharmacist that you spoke to just a few days ago. I am the one who showed you a picture of my daughter, Chloe, who looks so similar to Emily. I wanted you to know that I truly admire the work you are doing to improve patient safety. If there is any thing I can assist with please feel free to contact me.Thank you for sharing your tragic story so that there may be saved.
Lauren Gantzer
Mr. Jerry,
I had to send you a note to let you know how touched I was by your presentation yesterday at the Pharmacy Show. As a mother and a grandmother myself, I can't imagine going through what you went through. I met you at the breakfast portion before the pharmacy show started and you gave me your card. I had no idea who you were. Working as a pharmacy technician, I of course have heard about Emily's story, but I never knew the whole story. I don't think you left too many dry eyes in the place yesterday. This year is the first year that Kroger has let technicians go to the show and I know the one thing that will stay with me from this is your story and precious Emily's beautiful face. My heart goes out to you for your forgiveness for the parties involved. Emily is in heaven cheering for her Daddy for carrying on the work that she started.
God bless you for all your hard work and getting your story out there. You had an effect on alot of people yesterday.
You will see your beautiful daughter again someday when God feels your job is done. Emily will be saving a place for you in heaven.
Take care,
Kim Clark
---
Hi Mr. Jerry
My name is Nick Woodward and I am the lead pharmacy technician at the Kroger Pharmacy on Mall Road in Florence, Kentucky. I was at your presentation today at Paul Brown Stadium. Your presentation really moved me and hit home for me. I have a 20 month old little girl. First let me say I am sorry for your loss and I am amazed by your forgiveness and strength. You inspired me today. I want you to know I'm going to share everything you said today with all my pharmacy technicians and any other technicians I talk to through out the day. I was also disappointed that the Kentucky score card was a D. I would like to know what I can do or what we can do to get that score higher. I would like to help any way I can. Thank you for having the courage and strength to talk to us today. And thank you for making our pharmacy a safer place. Once again I am sorry for your loss.
Sincerely
Nick Woodward
---
"Chris, your work is so important and I'm incredibly grateful for the folks at Kroger for encouraging you and reminding you of that fact. We need you."
~Richard M. Edwards via Facebook
"@JMcDeez: @EmilyJerry Cannot thank you enough for speaking w/our team yesterday. They were still talking about your inspiring message today. #Awesome"
~Jaime McDermott via Twitter
---
May 5, 2013
The New York State Council of Health-System Pharmacists
210 Washington Avenue Extension • Albany, NY 12203 • (518) 456-8819
Dear Christopher,
Thank you very much for presenting at the 52nd NYSCHP Annual Assembly: Medication Safety. Your keynote presentation on "The Emily Jerry Story- From Tragedy to Triumph, made a significant contribution to the educational programming. Your story impacted all, and the information you provided to our attendees was greatly appreciated. 60 days after conclusion of the program you will be sent a summary of the program evaluation.
Again thank you.
Sincerely,
Debra B. Feinberg, JD, BS, RPh, FASHP Executive Director
An image of the above letter on their letterhead is below…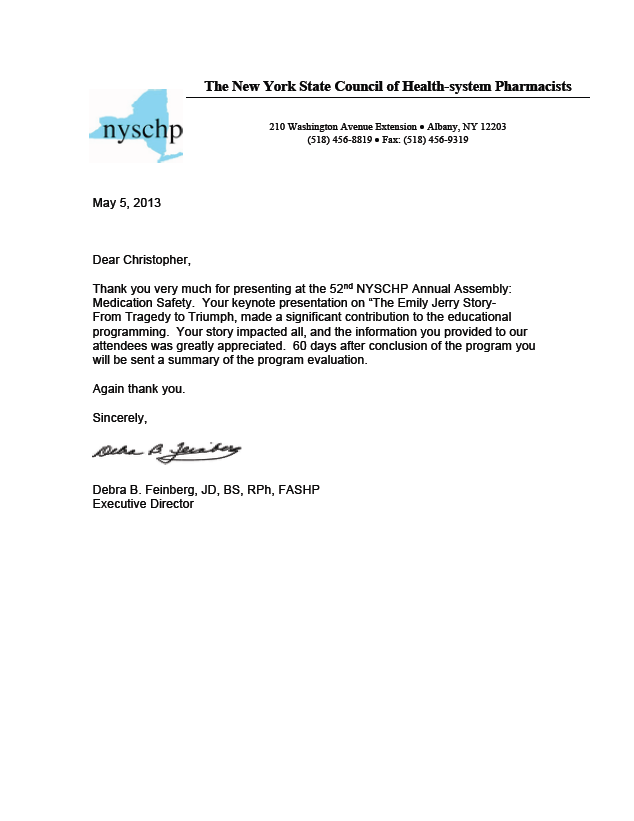 ---
March 12, 3013
A very kind letter was sent in by the Connecticut Hospital Association regarding an Emily Jerry Foundation speaking engagement in March of 2013.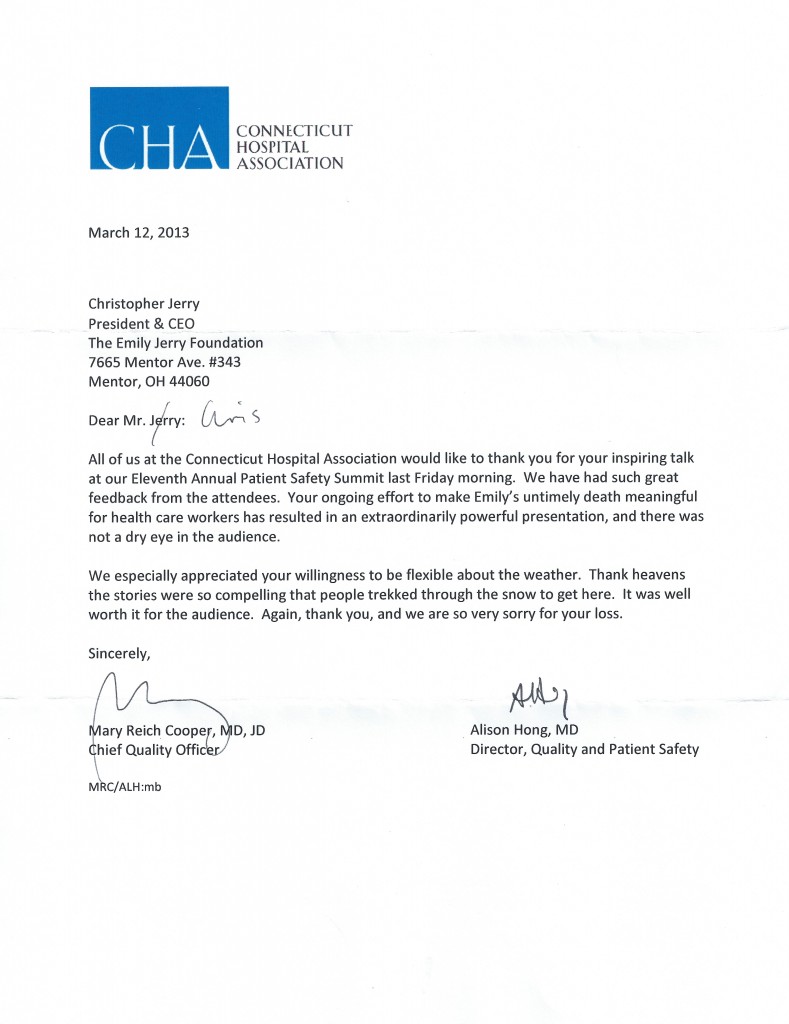 ---
More testimonials coming soon!