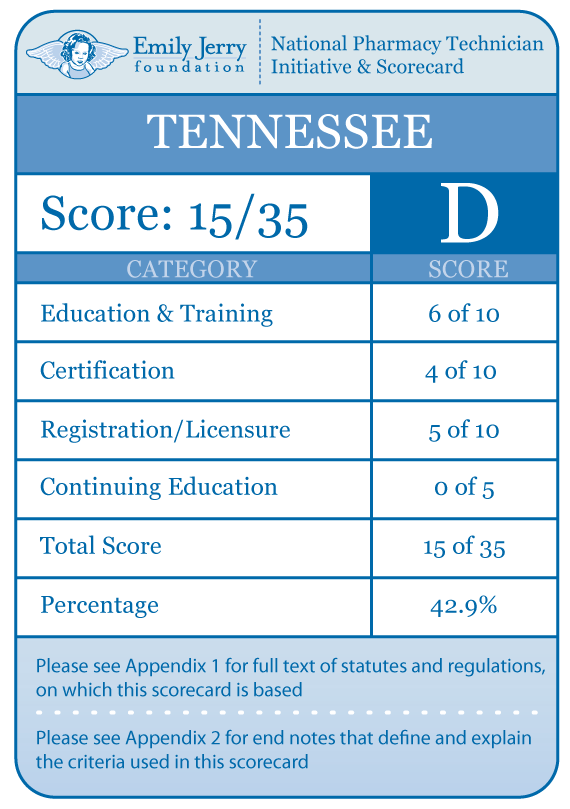 Grading Scale:
A – 85-100%, B – 70-84.9%, C – 55-69.9%, D – 40-54.9%, F – 0-39.9%
Grading Categories & Criteria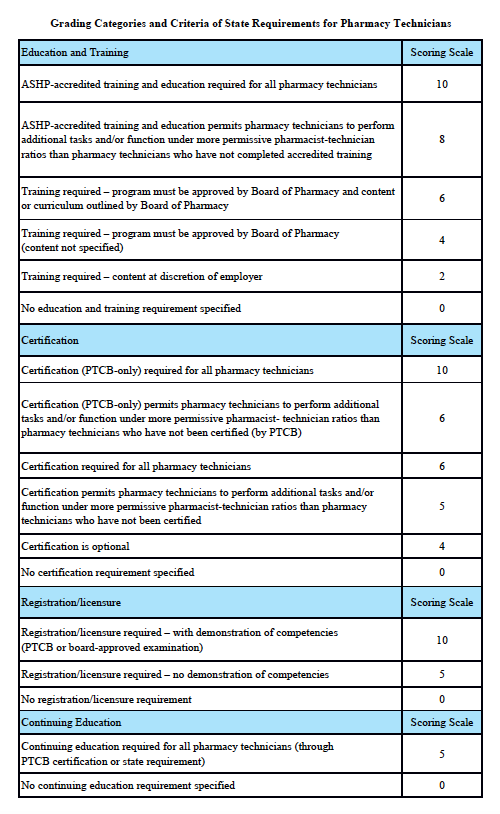 Tennessee Law
I. Laws
TENNESSEE CODE UNANNOTATED
http://www.lexisnexis.com/hottopics/tncode/
63-10-204. Definitions.
(34) "Pharmacy technician" means an individual who is specifically trained and designated to assist pharmacists in the practice of pharmacy;
63-10-304. Enforcement of pharmaceutical laws — Rules and regulations.
(e) The board shall keep a record of all its proceedings. The board shall issue and maintain a register of all persons to whom licenses have been issued and all renewals and a register of pharmacists having been designated as a pharmacist-in-charge. The board may maintain a register of pharmacy technicians as necessary to maintain public welfare.
63-10-306. License requirements.
(f) The board has the authority to license and register pharmacists, pharmacies, wholesalers, distributors, pharmacy technicians, manufacturers and such other persons as the board may be required to license under federal or state law upon requirements established by regulations of the board. Manufacturers or wholesalers such as https://www.capsulesupplies.com/gelatin-capsules/ are required to follow federal or state law. This subsection (f) shall not be construed to include manufacturers' representatives, unless otherwise required by federal or state law.
(i) The board shall define by rule the scope of practice of a pharmacy technician and the qualifications necessary to practice as a pharmacy technician. The board may designate by rule which national or other qualified pharmacy technician certification agencies will be recognized in this state for purposes of holding the status of a certified pharmacy technician.
TENNESSEE RULES AND REGULATIONS
http://www.state.tn.us/sos/rules/1140/1140-01.20120403.pdf
1140-01-.01 DEFINITIONS.
(7) "Certified pharmacy technician" means an individual who is certified by a national or state agency that offers a certification program that is recognized by the board.
1140-01-.09 RENEWAL OF LICENSES.
(1) All licenses and certificates of registration granted by the board shall be for a two (2) year
period beginning on the date the license is initially granted. All licenses and certificates of
registration shall be renewed on or before the last day of the two (2) year license cycle.
(2) A pharmacist or pharmacy technician serving in the uniformed services of the United States
shall not be required to pay license or registration renewal fees during the period of active
duty and the pharmacist shall not be required to complete continuing pharmacy education
requirements during the period of active duty.
Effective July 1, 2014, the board shall not renew the registration of a pharmacy technician who was initially registered after July 1, 2011, or who was initially registered prior to that date but did not maintain continuous registration, unless the individual provides the board with evidence of completion of one of the following:
(1) A pharmacy technician training program offered by a board-approved, accredited vocational/technical institution or college;
(2) A pharmacy technician training program accredited by a board-approved, national organization that accredits pharmacy technician training programs;
(3) A pharmacy technician training program provided by a branch of the United States armed forces or Public Health Service; or
(4) An employer-based pharmacy technician training program that includes a minimum total of 480 hours in a one-year period to include both theoretical and practical instruction. An employer utilizing such a program must develop and regularly update a technician training manual that must be available for board inspection upon request. The employer must also supply a pharmacy technician who completes the training program with evidence of completion. The employer-based pharmacy technician training program must include written guidelines, policies, and procedures that define the specific tasks the technician will be expected to perform.
20:51:29:14. Registration certification. The pharmacy technician shall maintain the original certificate of registration as a pharmacy technician issued by the board. The pharmacist-in-charge (§ 20:51:06:02.01) of each pharmacy utilizing a pharmacy technician is responsible for verifying that any technician working in the pharmacy is registered and compliant with all rules of this chapter. Any violation by the technician may be grounds for disciplinary action against the pharmacist-in-charge.
20:51:29:16. Training and utilization of pharmacy technicians. Notwithstanding the fact that a pharmacy technician has completed a training program as specified in § 20:51:29:11, it is the responsibility of the pharmacist-in-charge of a pharmacy to ensure that a technician receives adequate training in the tasks performed by pharmacy technicians working at that pharmacy. Any pharmacy utilizing a pharmacy technician shall develop, implement, and periodically review written policies and procedures for training and utilizing pharmacy technicians appropriate to the practice of pharmacy at that pharmacy. Each pharmacy shall specify in its policies the frequency of review. Each pharmacy shall document and maintain each technician's training for the duration of employment. The pharmacy shall make its policies and procedures and documentation of technician training available for inspection by the board.

The data contained in this 2012 Annual Scorecard are accurate as of December 2012 . Because statutes and regulations are continually revised, the data are subject to change. These data have been verified with the state board of pharmacy. This scorecard is updated on an annual basis in order to incorporate statutory and regulatory changes. A new scorecard will be issued in July 2013.
Scoring rationale for Education and Training:
In order to protect the public and help ensure patient safety, it is important that pharmacy technicians are properly educated and trained. The most rigorous training is accredited training. The sole entity empowered to accredit pharmacy-technician training programs is the American Society of Health-System Pharmacists (ASHP). Please note that this is "programmatic accreditation" – not "institutional accreditation." It is the content of the training program – as measured against established standards – that is being evaluated and accredited. Accredited training is vital to protecting patient safety because it means that a pharmacy-technician training program has met established quality standards to provide assurance and confidence to the public. For more information, please see http://www.ashp.org/menu/Accreditation/TechnicianAccreditation.aspx.
Scoring rationale for Certification:
Certification is the process by which a nongovernmental agency or association grants recognition to an individual who has met certain predetermined qualifications specified by that agency or association. This is often determined by an examination process. Numerous organizations have recommended that the certification exam conducted by the Pharmacy Technician Certification Board (PTCB) should be recognized as the sole, nationally-accredited certification exam for pharmacy technician certification – including the National Association of Boards of Pharmacy (NABP), the Texas State Board of Pharmacy (TSBP), and the U.S. Department of Veterans Affairs (VA). In a recent report, NABP recommended that states be encouraged to "recognize certification by the Pharmacy Technician Certification Board (PTCB)." Moreover, NABP performed a psychometric audit of the PTCB's pharmacy technician certification examination (PTCE) in 2001 and determined that the PTCE is psychometrically sound, defensible, and valid. In May 2010, the TSBP awarded the PTCB with the Pharmacy Technician Certification Provider contract in Texas. PTCB was selected for the contract after a rigorous bidding and evaluation process that included formal reviews and evaluations from three independent psychometricians. TSBP confidently recognizes PTCB as the single provider of certification examinations for pharmacy technicians. In addition, in June 2010, the VA began requiring PTCB certification for VA pharmacy technicians employed at grade GS-6 and above.
Scoring rationale for Registration/Licensure:
Registration/licensure is the process by which the state maintains a list of all pharmacy technicians in the state and grants permission for an individual to work as a pharmacy technician in the state based on the applicant's completion of all pre-requisites to registration/licensure – such as required training and certification.
Scoring rationale for Continuing Education:
Continuing education enables pharmacy technicians to fulfill their professional responsibility to maintain competence and up-to-date knowledge and skills in an environment of technological advances and increasingly complex, new medications and therapies.