Dr. Nathaniel Sims of Massachusetts General Hospital – Patient Safety Pioneer!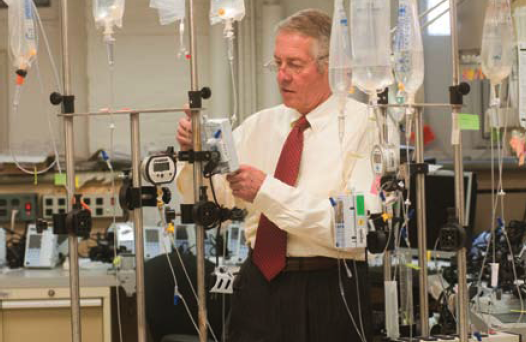 Dr. Nat Sims – Image from Mass General Magazine
Over the course of my patient safety advocacy I have had the opportunity to meet many heroes within our healthcare system. People who go in to work, day in and day out attempting the impossible…to reduce medication errors to zero. Very few have had a bigger impact on myself, and on our entire healthcare system as a whole than Dr. Nathaniel Sims of Massachusetts General Hospital. I had the pleasure of meeting Dr. Sims at this past year's Association for the Advancement of Medical Instrumentation Conference, where I was one of the keynote speakers. We immediately connected with a strong bond due to our sense of purpose for a common cause.
The Emily Jerry Foundation's advocacy efforts have been focused on the usage and implementation of smart-technology to reduce the occurrence of medical errors (especially caused by human error) in our nation's facilities. Dr. Nat Sims personifies this vision. Dr. Sims has spent his career attempting to innovate the drug infusion pumps which are the standard tool for delivering fluids into a patient's circulatory system. Through his tireless efforts as advisor to the Center for Integration of Medicine and Innovative Technology (CIMIT) the newest breed of "smart pumps" are able to spot potential dosage errors throughout the process, as well as notice dangerous interactions and dosage limits that may be breached. These improvements have come at the perfect time as Federal officials have been worried about the increase in reports of drug delivery incidents and serious injuries linked to them. These innovations are saving lives each and every day.
Dr. Nat Sims has had an incredibly distinguished career that has pushed the envelope further and ushered in an era of patient safety. On top of the smart pumps he is listed as an inventor on more than 10 Mass General patents for medical devices. The most recent innovation to be inspired by the Sims Lab is "smart" label technology. Licensed to Codonics, one of our great partners, the Safe Label System is utilized at the point of medication preparation and uses barcode technology to read information from a drug container and electronically identify it against the hospital's approved pharmacy drug database. An audible and visual confirmation of the drug is presented to the clinician when scanned, and a Joint Commission compliant label is automatically printed containing the name of the drug, concentration, dilution and diluent (if applicable), any alert messages about the drug and a barcode for AIMS or BCMA integration. The easy-to-read, full-color labels are based on ASA guidelines for drug class and color. The entire process  takes seconds and ensures syringes, or any labeled medications, are prepared error-free. The Emily Jerry logo can be found on SLS systems wherever they are being used in children's hospital's across the country as a reminder to take special care in pediatric preparations.
We are so very excited to be associated with this technology and being a part of the process of moving it forward. Thank You to Dr. Nathaniel Sims of Mass General for being such an incredibly dedicated patient safety pioneer that made it all possible!
Read more detail about Dr. Sims in the great article below published in Mass General Magazine.