URGENT ALERT: IV Saline in Short Supply according to Major News Outlets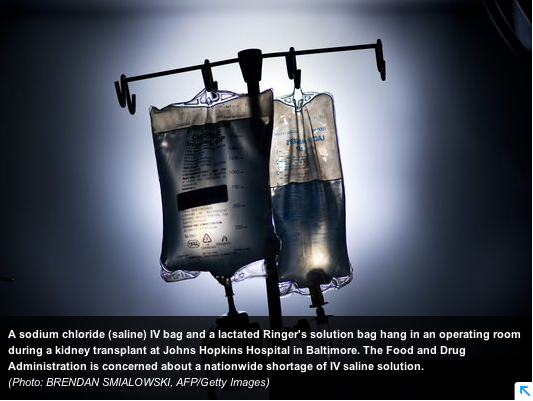 It is being reported nationwide that hospitals are experiencing a shortage of standard bags of saline for use with intravenous medications. In the eyes of the Emily Jerry Foundation this should put us all on High Alert status. The following articles are recent news reports that have covered this very important issue:
USA Today: Hospitals struggle with intravenous saline shortage
Reuters: U.S. hospitals hit with shortage of intravenous saline
MedPage:IV Saline in Short Supply
My comments regarding the situation are below…
This shortage of standard bags of saline puts many patients at serious risk of death from sodium chloride overdose. Due to the fact that clinical pharmacy works in the background at any medical facility, many physicians, nursing staff, and the general public are not aware that pharmacy technicians routinely compound virtually ALL IV medications in our nation's medical facilities. Unfortunately, in many states there is little, to no regulation or oversight of pharmacy technician's core competency (see the emilyjerryfoundation.org home page to look up the Pharmacy Technician Scorecard for your state).
My concern lies in the fact that if a facility runs out of standard bags of saline with .9% sodium chloride, then the pharmacy will be forced to compound this base solution with 23.4% hypertonic saline and add a diluent. If one mistake in calculation is made it could subsequently prove lethal to many pediatric patients. In 2006, as many of you are already aware, I lost my beautiful 2 year old little girl, Emily Jerry, to a very similar tragic medication error, when the clinical pharmacy, at a leading pediatric hospital here in Cleveland, ran out of standard bags of saline with .9% sodium chloride. In my daughter's case, the pharmacy technician filled an empty compounding bag with 3 vials of 23.4% hypertonic saline.
The Emily Jerry Foundation is recommending that, if the facility where you, or your loved one, is being treated runs out of standard bags of saline, you should insist that only a pharmacist prepare ALL IV medications during the course of your stay. We have gone ahead and prepared the following form letter that you can use to help during this shortage, prior to being treated or admitted to a medical facility. If you decide to use this letter, please make sure to fill in the appropriate fields with the correct information and get it signed from a hospital administrator in charge. Please don't be afraid to INSIST on it!
Click here to download the EJF Saline Shortage Request Letter to Clinical Pharmacy