Baxa News Release: Baxa Joins Forces with Emily Jerry Foundation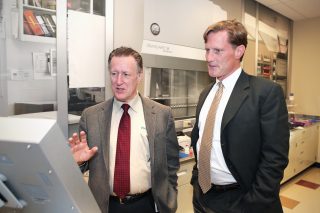 For Immediate Release
September 22, 2011
Patient-Safety Advocate Baxa Corporation Joins Forces with the Emily Jerry Foundation to Champion Pharmacy Safety Education and Legislation
Englewood, Colo. – "Fatal saline overdose." Three words a parent never expects to hear. But Chris Jerry did. Jerry's daughter Emily died when a pharmacy technician's mistake resulted in a fatal dose of saline solution. Three years later, in 2009, Jerry founded the Emily Jerry Foundation, a non-profit foundation dedicated to the prevention of medical errors. Today, patient-safety advocate Baxa Corporation formally joins forces with the Emily Jerry Foundation to evangelize patient safety.
As an Emily Jerry Foundation partner, Baxa will collaborate with Chris Jerry, Foundation President and CEO, to increase public awareness of solutions that can reduce the rate of human errors. The Baxa pharmacy workflow management tool, DoseEdge®, through barcode verification of every drug ingredient, has prevented more than 339,500 dose preparation errors in US hospital pharmacies.
"The Emily Jerry Foundation's mission of improving pharmacy safety and reducing the rate of human error matches the vision my father had over three decades ago when he founded Baxa," commented Baxa CEO Greg Baldwin. "Every day the Baxa team works to develop innovative pharmacy technologies for safe medication handling and delivery. We embrace the opportunity to join forces with the Emily Jerry Foundation, to increase public awareness of automation technologies that can improve dose safety and save lives."
Read the entire official Baxa News release about the Emily Jerry Foundation partnership by clicking here.