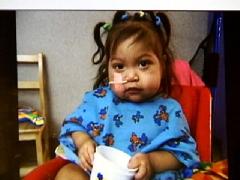 Staff Overdosed Almariah Duque On Blood-Thinning Drug
OMAHA, Neb. — The Nebraska Medical Center is investigating its staff after the Wednesday death of a toddler from Texas who was given an overdose of Heparin, a blood-thinning drug.
 Hospital representative Andrea McMaster said NMC is paying the family's expenses and will also pay for the funeral of Almariah Duque .
Duque was nearly 2 years old. She was recovering from multiple organ transplants, and gastroschisis, at the Nebraska Medical Center. She had been there since December.
She died Wednesday afternoon, after she was declared clinically dead Wednesday morning.
Read the rest here.